FiverrScript Alışveriş Scripti – FiverrScript Clone Nulled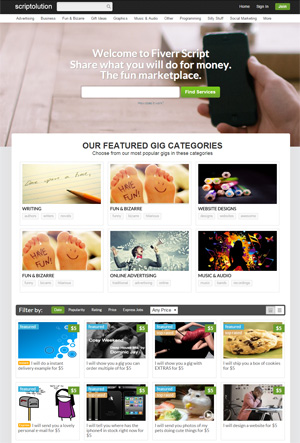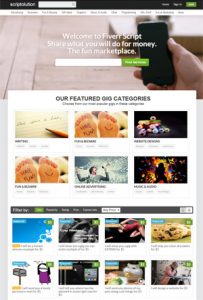 Multilingual
Multilingual – Support For Multiple Languages
Pre-Loaded With Nine Languages (English, Spanish, French, Portuguese, German, Arabic, Hebrew, Chinese and Russian)
---
General
Processing Fee – allow you to charge buyers a processing fee on each gig item ordered
Withdrawal Minimum Limit – only let users request a withdrawal if their available balance is more than the set amount.
Location System with Autocomplete addresses
Buyer Requests Section – Complete system for requests and offers.
Fully Responsive Design – shows beautifully on different devices
HTML5 Uploader added so file attachments can be done on mobile devices.
Improvement to the e-mail system so you can now set a send from name in the admin panel instead of just a from e-mail address.
The notification icon now changes color when there are unread notifications (responsive desktop view)
Improved Refund System – Improvement to admin cancel order refund system to not reduce available balance if the seller did not withdraw it yet
WYSIWYG editor is added for gig descriptions to let you format gig descriptions
Currency Placement – choose whether to show the currency before or after the price
User Profile Slogan – newly designed user profile page with a slogan users can set
A new global design has been added which includes a global header, global footer, homepage, view gig, create gig, my shopping, manage sale, create gig, my jobs, order, login, forgot password, join, confirm e-mail, category, suggestions, notifications, feature gig, search and tags.
ReCaptcha v2 allows for "one click" verification in some cases
Solve Media captcha integrated, which helps fight spam and allow you to earn money from ads in the captcha
Banned Words – Admins can ban words in the admin panel which sellers cannot use on any gig title, gig description, gig instructions or gig tags.
List View & Grid View on the Homepage.
Category Sections Also Have The New Design
Pay via Available Funds (Money Earned)
Set Specific Meta Data For Categories
Facebook Connect Profile Pictures
Separate Gigs Suggestion Page
Multi Byte Character Support
User Country Flags Shown Next To Their Username In Gig Listings
Users Blocked From Sending E-Mail Address And URL In Conversations
Google PlusOne (+1) Integration
URL Shortener Integration
Share jobs on Twitter and Facebook
Sort Gigs by Date, Popularity, Rating or Price
Directory page listing all categories and sub-categories
---
Payments
Stripe Payment Support – Users can pay for gigs and feature gigs using their credit card
Admins can charge sellers to feature gigs
Feature jobs using account balance
Paypal payment gateway integration
Alertpay/Payza payment gateway integration
---
Suggestions / Wants
Users can suggest jobs / gigs
Wants are listed for sellers to view and get ideas
---
Job / Gig Listing Page
Other Jobs / Gigs by User
YouTube Video of Job / Gig
---
Category Page
View gigs in specific categories
Admins can upload a large image for each category which show up on the category page and category tags page.
---
---
Post a Job / Gig
Gig Instructions to Buyer
Gig Image (Add up to 2 images)
---
---
User Accounts
Inbox Conversation System
---
Seller
Manage Gigs (Edit, Delete, Suspend, Activate, Add)
Manage Sales (Active, Delivered, Completed, Cancelled)
Track Revenues (Available, Awaiting Clearance, Awaiting Approval, Upcoming)
---
Buyer
Manage Purchases (Active, Pending Review, Completed, Cancelled)
---
Conversations
Conversation system to send messages to other users.
E-Mail notification for new messages
---
Advertisements
Pre-Placed Advertisements
---
---
Administration
Show/Hide Category Dropdown
Only Allow Verified Memebers To Create Gigs (On/Off)
Price Packs – Set Multiple Prices
Set Price Mode (Fixed, User Set or Price Packs)
Set Days Before Withdrawals
Static Pages with HTML – Admin Panel
Update Notification System
Gig Validation System (On/Off)
Create Multiple Administrators
Encoded Administrator Passwords
Approve Withdrawal Requests
Want Validation System (On/Off)
Dosya Şifresi  : www.phpscripttr.org